I've gone through several major revisions for the concept of the game world--how they look, how they would tie into the gameplay. This is a short outline of roughly the first full year of preproduction and the concepts I considered--though you'll have to wait to see the pages more of sketchbook sketches not yet scanned.
One of the very first, and admittedly still key inspirations is
Tsutomu Nihei's BLAME!
(pronounced 'blam' apparently, go figure Japan), which features the world of "The City", an excerpted page seen below:
(for those that don't bother to read, this is not my work)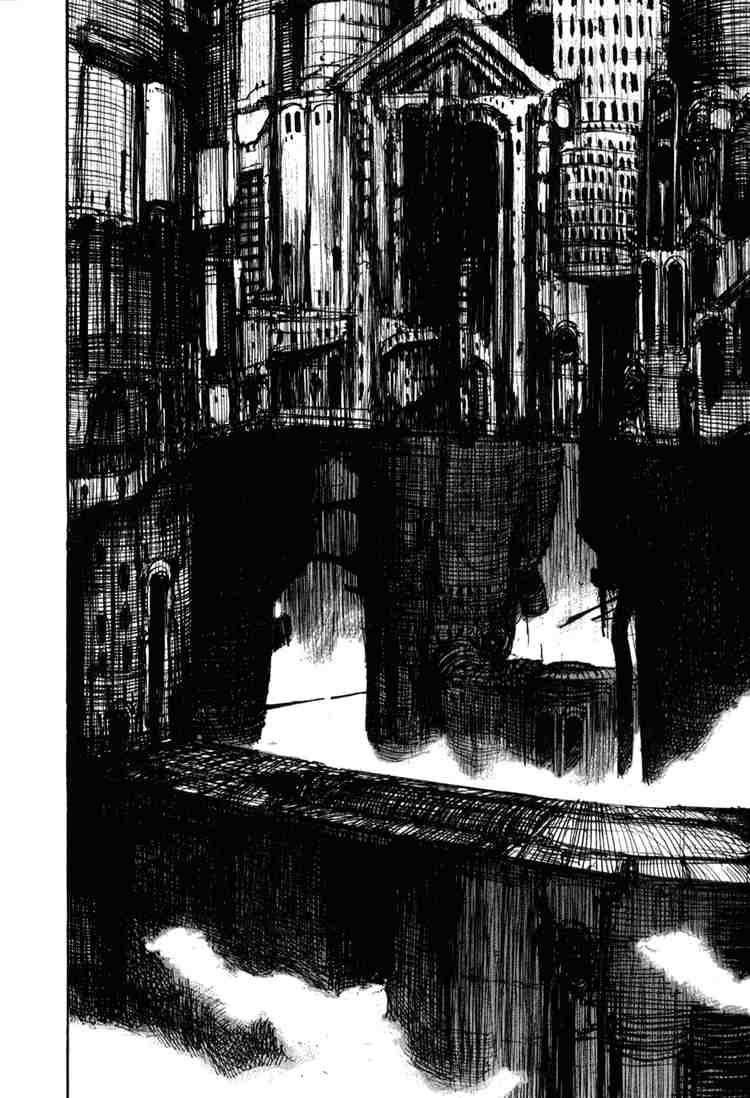 I washed out of reading the damn thing once he got into predictably insufferable manga lore conventions--but the first chapter or so (and the visuals throughout) are still worth the price of admission. The City is huge, as in very possibly Dyson Sphere huge, and the protagonist Killy tends to run afoul of all manner of cyborgs and subhuman/former human ghoulies of all stripes in this monstrous world.
While I don't really go for the greebly tech downer thing going on here, there were there are some things about this that inspired AM early on. The idea of a tech dungeon, first and foremost--with the sort of back to basics dungeon-related things, the roguelikeness, that it would imply for a game. Architecturally, harkening back to some 70's/80's science fiction paperback cover art, too. Nihei's work is really excellent in evoking scale. There's an added bonus that when the world is this never ending tech labyrinth thing, you're off the hook as a world designer creating reasonable bounds.
So even at an early stage, roughly a year or so ago from the time of this writing, I wanted to build some kind of science fiction world but with a more grounded perspective on the player character, his/her abilities, and for those that lived in the world. Go big and fantastic on the background, keep the foreground (characters and such) believable.
Outside of my sketchbooks this is the very first concept for this project, the file dated January 4th 2010.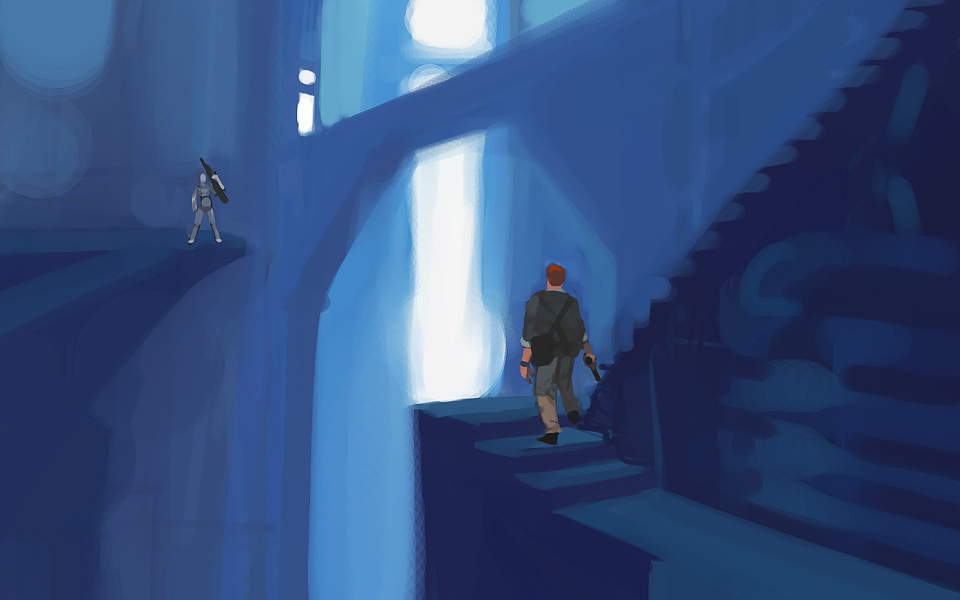 It may or may not be obvious here but the governing formula really was just BLAME! + ANOTHER WORLD. The Another World angle--more stylized approach to the visuals--was an initial approach to making the art asset production for the game more manageable. I still might spec out a look that resembles it, but I doubt this is anything like how the game will look. For one thing, how I paint is very different from the way I make 3D assets. But more on that later I suppose.
This was the next step, file dated to May of 2010, the Panopticon.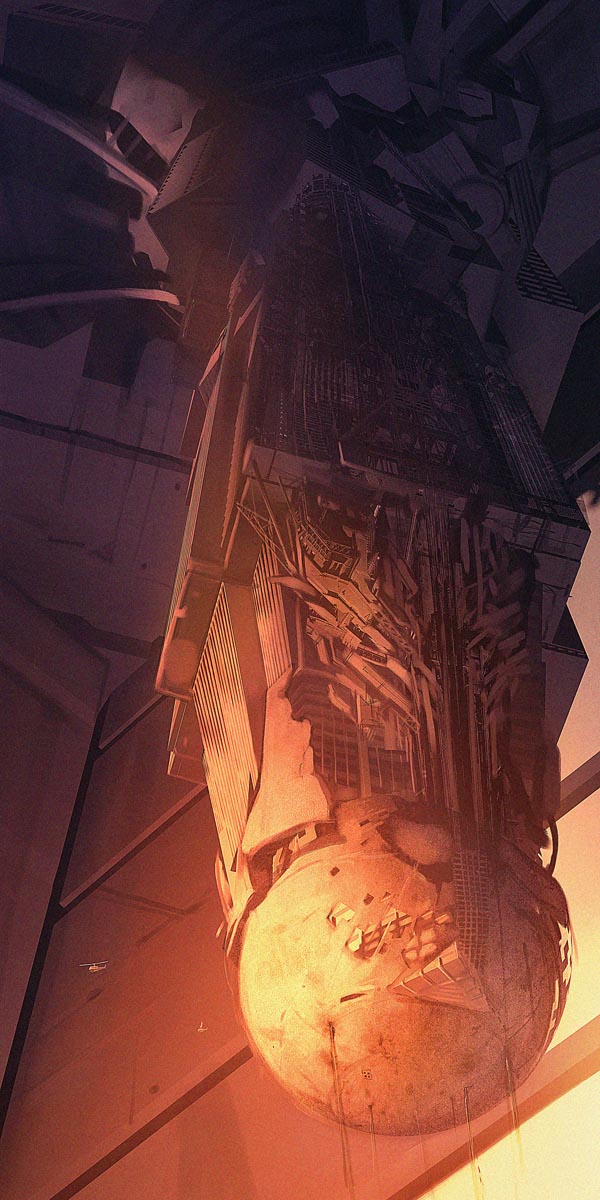 Still assuming a BLAME!-like world structure I struggled to give the world a better sense of form and purpose, and having a killer visual from the very beginning of the game, where you look up from the squalor of below (and yeah by the way I am indebted to Tiphares from Gunnm too, while we're at it). I ended up essentially applying the Citadel lesson from HL2. But my Citadel was to be upside down! This to me seemed a masterstroke for flow: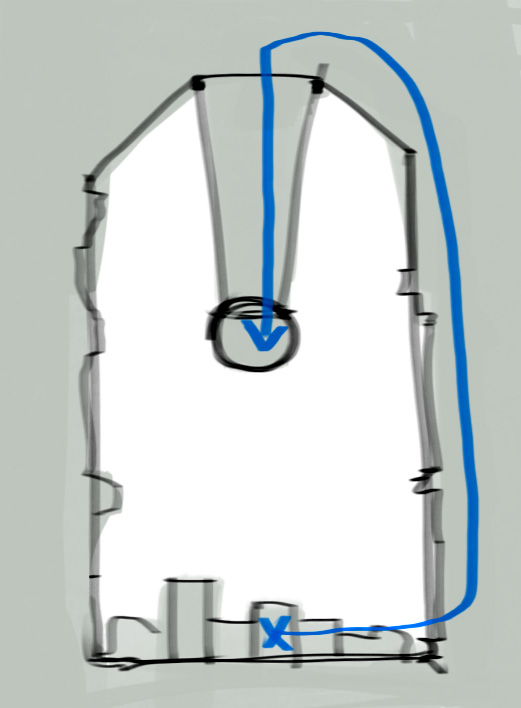 With this layout, you could conceivably have the big evil tower, the ultimate fortress always in view of the player's progress, but at that most critical moment of approaching it, the player would actually reverse course again, going down to the top, not up. At this point I am less sure about why I was so excited about this idea beyond some vague idea about implementing a New Game+ condition based on some overly neat narrative logic of putting the player from the top of the inverted tower back down to the start in the below "city".
The trouble was is it wasn't clever enough. And a lot of people, including Pariah Dog, who got a glimpse of this piece out of context a long time ago, thought the tower just looked like a penis. Soothsayer is he. More than that, I felt like I was going to end up boxing myself into making a whole game set in this dreary tech-labyrinth setting, which was less than appealing.
Panopticon take 2, Morning Star Station: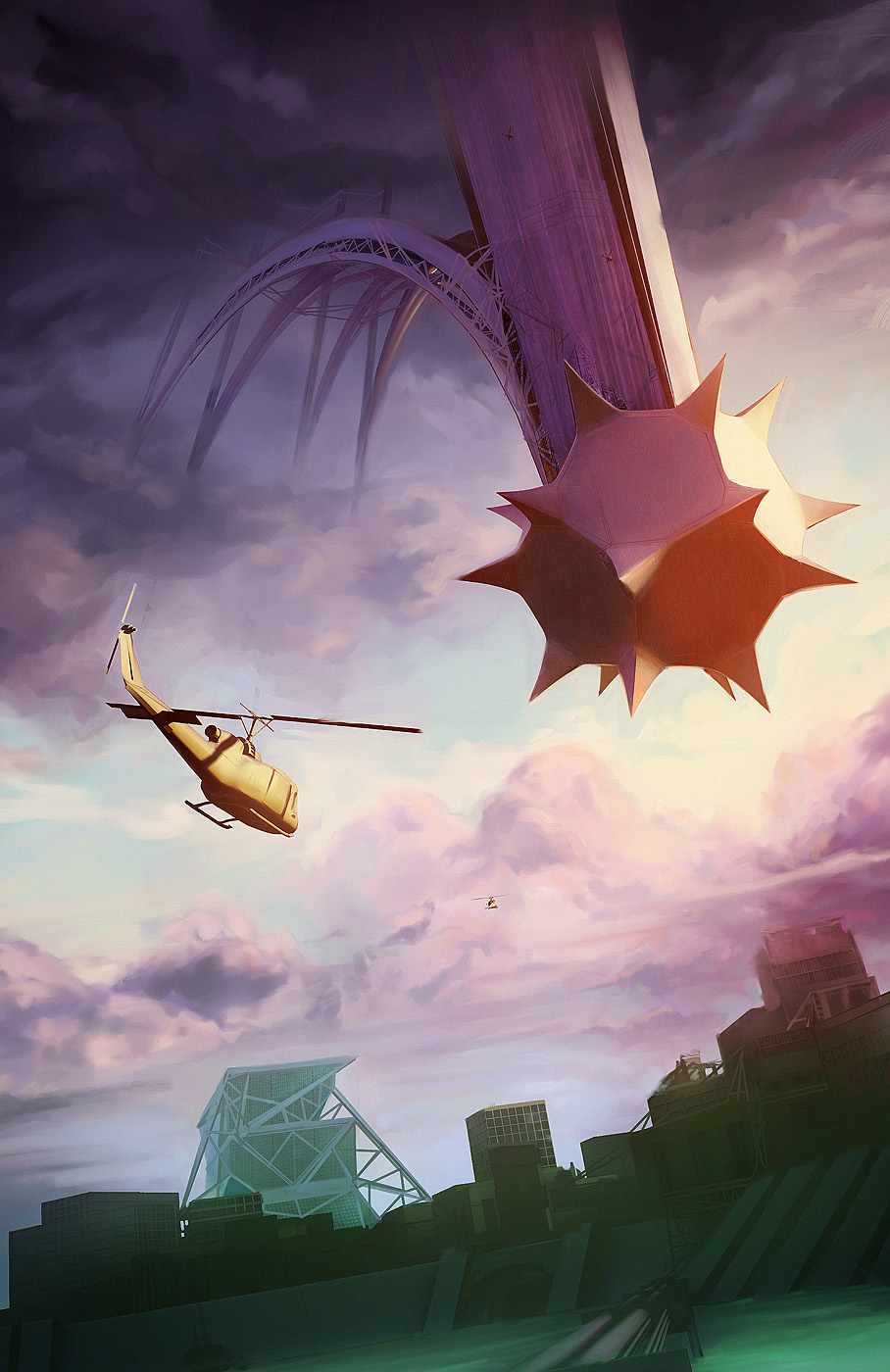 Same basic idea, but a different take on the inverted tower. A cleaner tower structure topped by a menacing shape called a hyperbolic dodecahedron. I wanted to suggest more of a military installation, surveillance. This stage of preproduction I was hugely influenced by a book recommended from
BLDGBLOG
called
Cities Under Siege: The New Military Urbanism
by Stephen Graham. Highly recommended, by the way. If I hadn't been lensing it more specifically as research for my game I might be utterly terrified at the possible futures it suggests is coming and in many ways is already here for our world cities.
But was the inverted tower anchored in space, or was the whole complex underground, like so? :

This went on for some months with plans for all kinds of things, like a whole mirroring complex for the fake sun in the fake sky, and how the bad guys could probably even change the time of day at will, a power the player might at some point gain themselves... much of the gameplay also predicated on piercing various forms of securitization and barriers, both social and physical. That sounds pretty airy but I am sure I will expand upon it at some point--and as with the other stages there is some DNA from this stage that remains.
The big problem with it was the same as the previous one--getting boxed into making one huge contiguous environment I realized was a bad idea for quite a number of reasons. Least of which I might get bored with it, far more pressing was the thought that the game I was dreaming up started to seem an awful lot like some kind of free-roamer/sandbox, and I had enough trouble with keeping the project scaled to be within my expertise without anything so ludicrous as building a sandbox. Prohibitive and doomed to fail on all accounts. But what was more, was that I was losing a grip on the images that first came to me, that had more to do with forward motion, travel through some kind of monolithic scale science fiction world.
*******
Much later I would come to the current scheme, which borrows something from all of the above while leveraging more unique and interesting gameplay opportunities than any of the previous versions, while also streamlining what would undoubtedly become potentially serious problems for level design.
But that's for part 2.